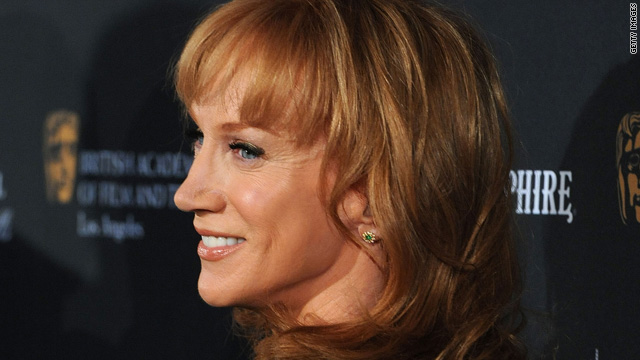 Kathy looking fantastic...AS USUAL! (From: marquee.blogs.cnn.com)
So, needless to say. I HEART Kathy Griffin. Always have, always will. Girl tells it like she sees it, and is too cute to boot! Since
Suddenly Susan
, with Brooke, she stole my heart. She was the girl everyone overlooked, but INDEED heard. I related a bit (growing up), I must admit.
My Life on the D List
was the best reality show out there, and unfortunately it is no longer a reality. THANK GOD Bravo is keeping her busy as ALL HELL. As well, being Anderson Cooper's BFF, she had a bit to say
post
the whole Anderson Cooper coming out email.
Read here for her reaction:
Kathy is quite possibly the most WITH IT gay's BFF EVER!
(From: xfinity.comcast.net)
If you've JUST read that post that is linked then you've realized that Kathy is not only funny, she's also one of the smartest friends that Cooper has. She says what she wants, and she wanted to keep her friend safe. I mean, others may not buy it. But, if you look at the places that Anderson goes, it is true that he could become an easy target. She is completely correct And good luck finding anyone else in HW to speak so correctly on the state of foreign affairs concerning LGBTQ safety in foreign territories.
I say, Anderson is so lucky to have a Kathy Griffin in his life and on his side. I was lucky enough to have two Kathy's on my side. They know who they are (K & G). They're just as intelligent and witty as Kathy, and just as loving. Not to say that I don't have room in my life if Kathy Griffin wanted to call me. I've got the time if she's got my number. It's ***-***-****. Whatevs....my email is attached to this blog. She'll get ahold of me if she wants to! I hope she wants to. I may die though....AFTER my HUGE gay gasp, of course.